ABOUT GAINESVILLE
Gainesville is a college town -- and proud of it. It is the home of the 1996 / 2006 national and SEC champion football team, the University of Florida's Gators. The team's football prowess has reinvigorated an already vital town. It's a place where things are happening and where people are proud to live. When Money magazine still issued its traditional "Best Places to Live in America," Gainesville made the list in six out of the last ten years -- in 1995, it ranked number one. But residents -- then and now -- don't need anyone else, even an influential national magazine, to tell them their city is a good place to live.
Home Sweet Home
Gainesville's excellent medical facilities, quality cultural offerings, pleasant climate and convenience to coastal beaches combine to increase its attractiveness to home buyers and homeowners, says the Gainesville-Alachua County Board of Realtors. Although homes in the region range from $30,000 to $500,000, many are priced between $70,000 and $120,000. In 1999, for example, the medium sales price of existing single-family homes in Alachua County was $108,800, up 4 percent from 1998. For that price, you can buy a three-bedroom, two-bath home with a den and about 1,600 to 1,800 square feet or a four-bedroom, two-bath home of the same size. Eighty-five percent of Gainesville's housing inventory is made up of single-family homes; another 15 percent is comprised of condominiums. If you're looking for a single-family home, you'll find 30 to 40 subdivisions from which to select. Golf-course property goes for $75 to $100 per square foot; waterfront isn't a significant segment of this market.
Vital Stats
The Gainesville Metropolitan Statistical Area (MSA) includes all of Alachua County.
Population: 128,460 as of 2014
Median age: 30
New citizens: 4,114 yearly
New job creation: 3.5 percent (1999)
Unemployment rate: 4.2 percent in Nov 2015
Cost of living: 89.90 percent (USA average=100 percent) 2015
Per capita income: $25,408 in 2014
Median household effective buying income: $45,353

Rain & Shine
The overall average temperature is a comfortable 70 degrees Fahrenheit. Gardeners love it here because it's cool enough to work in the yard most of the year, yet warm enough to do it in relative comfort. The growing season is 255 days, so the flowers and vegetables have lots of time to develop. The average July high is 90 degrees Fahrenheit; the average January low is 50 degrees Fahrenheit. It doesn't snow, but it does get a tad chilly at times during the winter. The county averages eight days yearly when the minimum temperature is below 32 degrees. It rains 51 inches annually, and some rain falls an average of 116 days of the year. Yet few complain about the rain, since is usually arrives on warm summer afternoons in time to cool off the inhabitants.
Job Market
More than 32 percent of the county's employed work for some governmental unit, many for the University of Florida but others for Santa Fe Community College, the school board, the publicly owned hospitals, the county and various communities. In addition to Gainesville, some of the small towns--Alachua, Archer, Hawthorne, High Springs, La Crosse, Micanopy, Newberry and Waldo, are incorporated and provide city services.
Major area employers include the University of Florida as well as the countywide public school system. The largest private employers are Shands Hospital (7,519), North Florida Regional Medical (1,400), Nationwide Insurance Company (1,000), Moltech Power Systems, (700), AvMed HealthPlan (544), Meridian Health Care (450), Hunter Marine Corp. (425), BellSouth (407), Tower Hill Insurance Group (390) and The Gainesville SunTower (300).
Class Notes
Extensive information about the schools in this area is online at the state's Department of Education (http://www.fldoe.org). There you'll discover everything you'll need to know about Florida schools -- in general and in particular. All you need is the name of your county and the names of the schools students from your neighborhood attend.
Use links from the DOE home page for general information about entrance requirements, immunizations and so forth.
For the nitty-gritty details that really matter, click on the logo for the "Florida School Indicators Report."
Getting Around
Gainesville is a good place to own a car. If you don't have one, however, Regional Transit System (RTS) provides area bus service and minibus transportation for the handicapped.
Roads are good. Need to drive to Tallahassee for the big game against rival FSU? No problem. Gainesville is served directly by Interstate 75 , which connects with Interstate 10 in Lake City just north of Alachua County. I-75 will get you east to Jacksonville and the Atlantic shoreline or west to Tallahassee or even farther west to Pensacola--all the way to Los Angeles if you're so inclined. Additionally, I-75 connects with the Florida Turnpike to Orlando and on south to Miami. I-75 also goes north to Atlanta or down Florida's west coast to Tampa, Sarasota, Fort Myers and Naples.
Greyhound-Trail ways serves the city's interstate bus transportation needs. Amtrak provides passenger rail service. Jacksonville has the closest deep-water port to Gainesville. The Gainesville Regional Airport's five commercial carriers offer 25 daily non-stop flights that connect to major transportation hubs in Atlanta, Charlotte, Miami and Orlando. From those cities, you can get virtually anywhere except Antarctica.
Great Outdoors
Some say Alachua is Seminole Indian for jug. They assume the county received its name because of the sinkhole in Paynes Prairie. Others interpret Alachua to mean "grassy." They assume that the prairie itself, not its centerpiece sinkhole, inspired the county's colorful name. It probably doesn't matter, but it's indicative of something special about the county. Even though it's inland in a state famous for coastline, the county enjoys both the beauties and oddities of nature.
Whether or not the county is named after its big sinkhole--and it probably is--you won't want to miss the Devil's Millhopper State Geological Site, a 10,000-year-old sinkhole accessible via 232 stairs. It's easy to get down, but remember you'll have to reverse your steps to climb back up. If you brave the descent and its consequent return climb, you'll be rewarded with sights of rare and unusual plant specimens. At least enjoy a scenic stroll around the rim of the enormous--500-feet-wide--sinkhole. Energetic? Walk the Gainesville-Hawthorne Trail, a 17-mile rails-to-trails project that is used by bikers, hikers and horseback riders. It passes through two of the area's best natural sites--the 19,000-acre Paynes Prairie State Preserve and the Lochloosa Wildlife Management Area. Along the trail, three overlooks offer glimpses of different ecosystems.
For gators real and honorary, check out the UF campus. Lake Alice fosters a wildlife sanctuary and botanical gardens. You may see a gator sunning in the sanctuary. They're definitely in the lake. For more critters, visit the zoo. The Santa Fe Community College Teaching Zoo is a "one and only" experience: the only one of its kind in the country, college students run the place and learn on the job about zoo management, animal care and guest services. To see the stars, wander outside on a clear, dark night or visit the UF Teaching Observatory on Friday evenings. It's fun and it's free.
About 20 miles south of Gainesville, you'll discover Cross Creek and the Marjorie Kinnan Rawlings State Historic Site. Located between two large lakes, it's a site of great natural beauty as well as literary and historic interest.
Good Sports
The pros don't play here and might not garner much support if they did. On campus,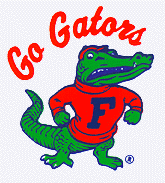 take a look at Florida Field at Ben Hill Griffin Stadium, a.k.a. the Swamp, where the Gators play football. This is Gator Country. All the teams are good. Many are great--not in football alone, but in swimming, diving, golf, tennis and baseball. Plus, many of the women's teams stand out in the NCAA crowd--especially in basketball. If you get a yen for what some call "the next level," Jacksonville offers its football Jaguars, Tampa its Buccaneers and Orlando its basketball Magic. The local Gainesville Growlers are new and scheduled to compete against five Florida minor-league football elevens. Plus, the ever-active Gainesville Sports Organizing Committee brings state and national sporting events and even championships, mostly amateur, to town.
Individual sports fans have it made. Facilities are great, partly because of the university's presence. Gainesville sports seven golf and country clubs (with more in the region) plus lots of good tennis courts. Swimming pools and lakes are plentiful; beaches on both coasts are conveniently close. It's about an hour's drive to the Gulf of Mexico and it doesn't take much longer than that to get to the Atlantic Ocean. Fishing and canoeing on the Santa Fe River provide many pleasant hours for residents who prefer freshwater sports. For divers, five springs--Blue Springs, Ginnie Springs, Ichetucknee Springs, Manatee Springs and Poe Springs--are in or close to Alachua County. Even experts enjoy cave diving at Ginnie Springs.
There's an active parks and recreation system, a Boys Club, a Girls Club, an organization devoted to promoting and organizing youth soccer and a YMCA with plenty of programs in addition to its popular swimming-lesson series.
Hot Times in the City
Anyone who's bored in Alachua County has only himself to blame. Whatever your hobby or passion, from weaving to stargazing, from basket making to bread baking, from computer programming to duplicate bridge, you can do it here and find like-minded folks to enjoy it with you. The university's proximity and an open-minded attitude toward learning new things gives zest to community life.
Gainesville's has a high cultural base and is constantly enriched--directly or indirectly--by university faculty and students or their special guests, in town for seminars or lectures or special performances. The Harn Museum of Art showcases the university's collection, student works and special traveling exhibitions. For a change of pace, consider a visit to the Gainesville Artisans' Guild Gallery. Musical groups abound: whether you prefer jazz or classical, blues or alternative, you'll find lots to listen to throughout the year. UF's Constans Theater performances excite viewers and actors with cutting-edge, avant-garde and classical theater, not simply the latest Broadway show. At the Center for the Performing Arts, famous entertainers--ranging from Itzhak Perlman to Johnny Cash--take the stage on a regular basis. Whatever the venue or group, the Hippodrome State Theater, the Gainesville Community Theater, the Florida Players, the Players of Santa Fe, the Gainesville Community Play House, Dance Alive, Floridance Company, Danscompany of Gainesville, Dance Theatre of Santa Fe, Gainesville Ballet Theatre, the Gainesville Chamber Orchestra, the Gainesville Civic Chorus and the Gainesville Community Band all entertain and enlighten those who see them perform.
Three fine museums await the curious: in addition to the Samuel P. Harn Museum of Art, there's the unusual Fred Bear Museum, displaying specimen animals downed by the expert bow-hunter, and the highly rated and fascinating Florida Museum of Natural History, featuring a full-size limestone cave and a Mayan temple. Also worth a look are the Morningside Nature Center, a living history farm; the Thomas Center, the city's cultural home and site of period rooms, art galleries and gardens; and the Matheson Historical Center, with 16,000 Florida postcards, plus prints, maps and books about the state.
Special events occur on a weekly, almost daily, basis. For the big-time calendar events, experience the Gator Nationals every March, the Spring Arts Festival in April, Pioneer Days in High Springs during May, Newberry's Watermelon Festival in June. Summer is quiet, although not uneventful. Fall events in the "don't miss" category include UF Homecoming and associated festivities in October; the Alachua County Fair, Micanopy's Fall Festival and Gainesville's Downtown Arts & Crafts Festival in November; the Festival of Trees in Gainesville and Christmas parades in High Springs, Hawthorne and the town of Alachua.
Shop 'til You Drop
There's a big mall in Gainesville. It's called Oaks Mall and is home to five anchor department stores and an additional 130 stores, specialty shops and restaurants. In the immediate Gainesville area, another five shopping centers with lots of "good goods" include Butler Plaza, Gainesville Shopping Center, Newberry Crossing, Newberry Square and Tower Center. Also in Alachua County, Micanopy in the south and High Springs in the north are both famous all over the state as fun places to shop for antiques and collectibles.
Nightlife
Lots of restaurants, clubs and bars serve the residents, but because 47,000 of the citizens are comparatively poor college students, few eateries are very upscale. Most diners seem to enjoy casual places like Applebee's, Ruby Tuesday's, T.G.I. Fridays and Outback. For something special, residents often drive to romantic Cedar Key in the Gulf of Mexico for dinner.
If you know of a town with 41,000 college students that doesn't have a swinging nightlife and cutting-edge, alternative music scene, let us know. Chances are good it's not in Florida, where all the major public and private schools are known for academics, sports and fun--not always in that order. Gainesville's club scene rocks year-round, but especially when a band played on college radio hits town. And Gator Growl headliners aren't the only groups making noise during Homecoming weekend.
College Scene
Unless you cut to the chase by hyper linking to this section, you've already read about the football team and other sports activities at the University of Florida. But UF is the state's flagship university, an academic powerhouse with nearly 35,000 students, who come from more than 100 countries, all 50 states and each of the state's 67 counties. It has 26 colleges and schools, plus numerous research, service and education centers, bureaus and institutes that together offer more than 100 undergraduate majors. Numerous graduate programs and professional schools in law, dentistry, medicine, pharmacy and veterinary medicine are a proud part of the university's diverse academic offerings.
Some students start at Santa Fe Community College (SFCC), a two-year, state-supported school located in Gainesville that enrolls at least 12,500 in for-credit courses. Another 20,000 students take non-credit courses. The college offers more than 40 technology and applied science programs. The curriculum includes programs in nursing, accounting, paramedics and cardiopulmonary technology, for example.
Just for Seniors
Although Gainesville is a young town, its seniors aren't ignored. One of Gainesville's claims to fame is that it's the site of several highly rated hospitals in addition to the Shands Hospitals, prestigious teaching hospitals associated with the University of Florida and its medical and dental schools.
The Mid-Florida Area Agency on Aging, which coordinates the work of assisting the elderly in 16 Florida counties, is located here. The Elder Helpline for Alachua County Information and Referral (I&R) is 352/375-1155 or 1-800/262-2243. Many senior-tailored services are available in Alachua County, including congregate meals, home-delivered meals, homemakers, respite care and assistance with everything from transportation to medical appointments. A few programs that are state or federally supported may have waiting lists. If you can afford to pay for the service, you can often bypass the waiting list or arrange for a private provider. The I&R staffers can generally help with both public and privately funded services for anyone over 60 years of age.